5 Advantages of Mobile Apps over-responsive eCommerce websites
Technology / August, 10 2020

The number of smartphone users worldwide has raised to a gigantic figure of 2.7 billion which becomes a great reason for businesses to focus on having an online presence running well on mobile devices. An easier version is called a mobile app. With the increasing popularity of mobile devices, user habits have changed a lot. Changes affect how people make purchases, receive information, and use services. It is an understatement to say that every business should have a website.
In fact, most businesses have at least one website that is functional. But, we can not say the same about applications. Now, if you are into a business that deals with selling products, then owning an application is far more beneficial then a responsive website. But, why should a business build an app? And what are the key benefits of mobile applications over mobile websites? We have pondered over it for a long time and listed down nine compelling reasons for you to build an app.
1. Mobile Apps are faster:
Mobile apps are 1.5 times faster than a mobile site. With mobile apps, data retrieval happens in a matter of seconds as they store data locally on your device. Applications are usually 1.5 times faster than mobile websites and they perform actions much faster too.
The speed depends upon the server performance, network ad many other associated things. Apps run on frameworks whereas mobile sites use Javascript to run functions which is why apps are seen offer a seamless experience. Applications store their data locally on your device.
Allor, data retrieval happens in the blink of an eye. In the case of mobile-sites, data needs to be fetched from the web servers which can take from few seconds to a minute depending upon the network speed and packet sizes. Another reason is, Mobi-sites use JavaScript to run functions and apps run on frameworks which can be five times faster. As all of this happens in the back-end, your users get to perform actions much faster on the front-end delighting them with a seamless experience.
2. Push Notifications and instant updates:
Being an eCommerce business holder, it must be every week's work for you to release offers. By means of mobile apps, you can send important updates to the users using Push notifications. Push notifications are received in the notification tray of smartphones regardless user opens the app or not. In-App notifications are received when a user opens an application on their devices. Push notifications are received on devices regardless of a user opens an app or not.
Basically, the update and promotional notifications that you receive on your devices on a daily basis are Push Notifications. Moreover, you can send regular updates via Play Store, iTunes, and windows store to your app via OTA, keeping it updated at all times with all the latest features and images and product listings. It will also allow you to promote products and services regularly increasing your sales and profits.
3. Offline access:
Mobi-sites would run under the internet connectively while mobile apps also allow you to access certain features while you are offline. For example, if you want to read your favorite novel online, you would obviously not want any kind of disturbance in between.
Mobile apps are seen to offer a seamless experience in such situations. Moreover, wherever you go, it's not necessary you find a good network. Mobile apps are a saver in such time since you can access a few or most of the features offline as well.
4. Using device features:
Mobile apps have an added advantage where you can code an app into utilizing various features of a native device. A mobile app lets you use the features of the native device such as GPS, Camera, NFC, etc. which is an added advantage that you cannot get from a website.
So, once downloaded they can use features like Camera that can scan PFDs, QR and Bar codes, and NFC to use for payments, GPS to connect with maps and other services and accelerometer, gyro meter, and compass that can be utilized for thousands of different purposes. We are seeing the rise of fingerprint scanned on devices that are yet to be explored and exploited for various apps and solutions.
5. Branding and Design:
Where mobile-sites just call your website design and fit it as per the screen size, mobile apps are designed keeping in mind an added ease, mobile devices can offer. Unlike websites that rely on browsers to support functions, mobile applications can be designed to support swipe gestures like a drag, pinch, hold, tap, double-tap, and more, each performing a certain action that increases user-friendliness.
Moreover, you can design your application in the way you want without depending upon the device or browser elements and caching problems. Every mobile app is customized according to a company's branding and yours won't be an exception. And if you're changing your branding, then there's nothing better than a mobile app.
Conclusion:
There are millions of mobile applications out there on the internet and probably there will be millions more. Remember, users, are spending more and more time on apps as the latest researches have suggested and a business should be present where its customers are. So, it is the best time to build mobile applications for businesses to fully harness 'First Movers Advantage' to sell your products and services before your competitor does.
About Author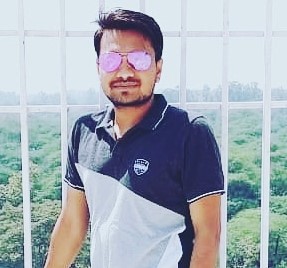 Mr. Lokesh Bansal
Lokesh Bansal is technical lead in Vidhema Technologies. He is responsible for Managing all mobile project from start to successfull delievery. He also played a very major role in all technical discussion within the orgination. He enjoys learning the small details of all modern technologies and use them in his project to make the standered high and delievery seemlessly.